Designed to make your life easier.
---
Ease is a subscription manager app designed to help you track all of your different subscriptions.
OVERVIEW
PROJECT DURATION
7 days
12 December 2022 – 18 December 2022
MY ROLE
UI/UX Designer
LET EASE DO ALL THE WORK
Link your subscription to any app on your phone, and Ease can help you track your subscriptions automatically, providing you insights, and thus, saving you money in the long run.
LINK YOUR BANK ACCOUNTS
With endless of subscriptions to track, you can easily miss out some. But with east, you can link any bank accounts you have, and Ease will suggest repeated transactions that you can add as subscriptions.
The Problem
Many of us subscribed to different products and services, sometimes, even to services no longer being used by us anymore. As we do not get proper billings other than those reflected in our bank statements, subscriptions are harder to keep track and thus, harder to unsubscribe.
38%
of the public have kept paying for unused subscription services
£25
spent per month on services that are not been used regularly
25%
didn't know how much they were spending on their subscriptions
45%
agreed that subscriptions were too difficult to cancel
*Results taken from Internet Retailing.
RESEARCH
---
MARKET RESEARCH
To establish the potential users, I focused on finding out how the potential users would use Ease.

Who use subscriptions?
73% of respondents mentioned they bought at least one entertainment subscription (streaming).

How are subscriptions paid?
Mobile wallets have outpaced credit and debit cards as the preferred online payment methods for subscriptions, chosen by 71% of respondents.
USER INTERVIEWS
I conducted interviews with people from various age groups who have varying habits of mobile and technology.


Number of Participants: 2
Gender Breakdown: 1 male, 1 female
Age: 25, 58 respectively
"I hate checking my bank statements with so many different transactions flooding, so normally I do not check what I pay."
- Mr Low Y (male, 25, student)
COMPETITOR ANALYSIS
Some of the specific researching goals I wanted to achieve:
- Get a clearer idea of what direct competitors within the same market segment are offering
- Identify creative optimization opportunities and enhancements

Some competitors I analyzed are:
Subscription Manager - Bills, Subscription Manager!, Subscription Manager+, and Bobby – Track Subscriptions
And these are the findings:
Custom Subscription
Custom Subscriptions are necessary for users to keep track of 'non-common products/services' such as rents and bills.
Bill Date and Cycle
This allows users to not have to key in multiple times for every occurrence of their subscriptions.
Alerts and Notifications
Users can get notified if they have to make payments that are not automatically deducted from their cards. This can also serve as a reminder for them to decide if they should unsubscribe before the next due date.
Prompt for No Amount
Amount should be presented to let users know how much they will need to pay at the next cycle. $0.00 can still be added if it's a free trial etc.
DEFINE
---
"As a person who has many subscriptions to keep track, Julian wants to be able to manage all his subscriptions in one place so that he will have better control on his expenses."
PERSONA
After gathering and organizing the data from my research, I created a persona to visualize the target end-user. To guide me through the design process, I ensured that this persona accurately portrayed a tech-savvy person who have many subscriptions.

This persona was referred to throughout the entire product life cycle in order to remain focused when making design decisions.
USER JOURNEY
I mapped out Julian's steps to help tell the story of his experience with the brand from exploring the main page of the app to creating new subscription. This helps to lay out the pain points at different stages and reveals opportunities for improvement.
IDEATION
---
APP MAP
I created a rough sitemap to give myself an idea of top-level functionalities that need to be incorporated in Ease. I sorted through the main features and functionalities to complete the app map, keeping track of all the screens that are needed to design.

The app map that I created allowed me to determine where the main features would be located in the key screens, and also their relationships with one another.
DESIGN
---
PAPER WIREFRAMES
The first step of the design phase was the drawing of the low-fidelity wireframes. I started with some basic sketches of how I wanted the overall layout to be structured. The low-fidelity wireframes helped me to focus on the layouts and visual hierarchy.
DIGITAL WIREFRAMES
The sketches were then followed up with digital wireframes, in which the sketches took on a digital form and were prepared for usability testing. The wireframes did not have many details so I was able to focus on the functionality of the features instead of the visual design of the app.

As the initial design phase continued, I made sure to base screen designs on feedback and findings from the user research conducted while testing the digital prototype.
STYLE GUIDE
I wanted the style guide to be minimal with primary colors that look clean together. After figuring out what colors to utilize for the app, I went to work on finalizing the components for the design system.

The font used is SF Pro, the font of IOS, to give a legible and clean look for the app.
TEST
---
USABILITY TESTING
Before finalizing the designs with high-fidelity mockups, I conducted user testing with several participations with the digital wireframes prototype.

The users were given 4 tasks to carry out using the digital wireframes prototype. Participants were users with at least 5 subscriptions. After gathering various insights from users, I listed the pain points faced by them.

Tasks

Browse currently added subscriptions
Add a new subscription
Check for upcoming subscriptions
Link a bank account
Here are some pain points users faced
:
Some buttons are too small to be clicked easily
All felt that having an app that is able to access all the transaction history can be invasive and invasive
Recommendations
Increase the size of certain buttons
Ensure linking bank accounts is not essential for Ease to work with its functionality, only users who agree with the privacy statements will have access to that extra feature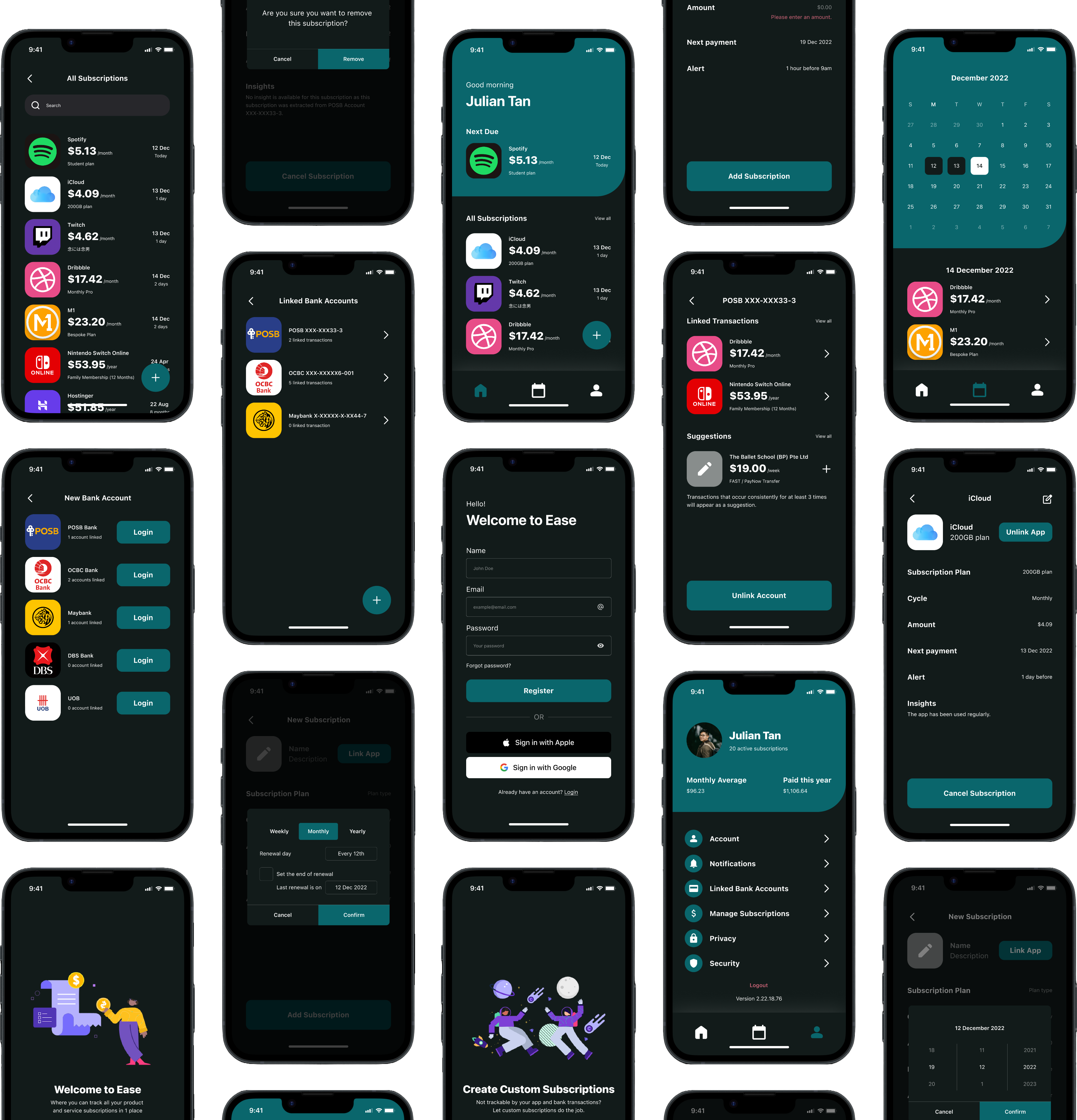 HIGH-FIDELITY MOCKUPS
The purpose of this application was to allow anyone of different technology backgrounds to quickly navigate and manage their subscriptions. With this in mind, I wanted the app to have a clean and minimal feel to ensure the design doesn't get in the way of the user's goals.

The final high-fidelity prototype connected the primary user flow of tracking subscriptions by adding, editing, and deleting subscriptions.The final high-fidelity prototype can be found below.
GOING FORWARD
---
IMPROVEMENTS TO BE MADE
Add a choice to have trial period before 1st payment for cycle, to remind users to cancel subscription if they are unhappy after the trial period
Add a page of detailed analysis and predictions for users to understand and learn this spending behaviors
WITH MORE TIME, I WOULD
Test my flow with more users, and iterate based on feedbacks given by them
Explore other visual directions and validate with users
Design a 404 page for unexpected error
Spend time researching the technology needed to make Ease work (How will Ease actually be able to track bank statements just by linking app? How can Ease track the frequency of a linked app being launched?)
TOOLS
Figma, Miro, Photoshop